This post tries to analyze some aspects of Facebook as a company, so I can confront some values promoted by Facebook and how they enter in conflict with government's values.
Let's start looking for capital flows
The first thing is to follow the flow of capital, so first thing I have done is to look into the Q2 2020 quarterly report for investors.
The first thing we can find is that 98% of the revenue comes from advertisement.
These are the KPIs and measures offered by FB and they are considered valid from market point of view:
Facebook Daily Active Users (DAUs)
Facebook Monthly Active Users (MAUs)
Facebook Average Revenue per User (ARPU)
Family Daily Active People (DAP)
Family Monthly Active People (MAP)
Family Average Revenue per Person (ARPP)
I want to remind the main types of cost, so I will save this screenshot here:
Spending time on their platforms is the main thing they measure and what happens there is the second thing we should look at. Where?
Patents
I have been reviewing the list of FB´s patents and I have stopped in the second page of patents as there are so many. From the extraction I got:
Methods and systems for identifying target images for a media effect
Automated detection of tampered images
Location based content aggregation and distribution systems and methods
Ranking items using a unified model
Techniques to promote filtered messages based on historical reply rate
Informative advertisements on hobby and strong interests feature space
Generating catalog-item recommendations based on social graph data
Determining related query terms through query-post associations on online social networks
Optionalization and fuzzy search on online social networks
Apparatus, method and program for image search
Methods and systems for providing user feedback
Systems and methods for partitioning geographic regions
Dynamic tagging recommendation
Automatic personalized story generation for visual media
Managing notifications pushed to user devices
Systems and methods for filtering page recommendations
Systems and methods for filtering page recommendations
Predicting reach of content using an unresolved graph
Providing social endorsements with online advertising
Real-time tracking of offline transactions
Systems and methods for selecting content to send to labelers for prevalence estimation
Temporal clustering of social networking content
Suppressing entity suggestions on online social networks
Methods and systems for synchronizing data streams across multiple client devices
Systems and methods for suggesting content
Tired of reading patents? …. me too.
I want to focus on some of them:
Systems and methods for recommendation of topical authorities: Systems, methods, and non-transitory computer-readable media can determine one or more respective topics of interest for at least some users of a social networking system. At least some of the topics can be propagated to at least a first user, wherein the propagated topics were determined to be of interest to users that follow the first user in the social networking system. At least one topic from the propagated topics for which the first user is a topical authority is determined.

Inferring relationship statuses of users of a social networking system:

This patent application discusses predicting a set of emotional states using information such as how many times you visit another user's page, the number of people in your profile picture and the percentage of your friends of a different gender.

Determining user personality characteristics from social networking system communications and characteristics

: This patent proposes using your posts and messages to infer personality traits. It describes judging your degree of extroversion, openness or emotional stability, then using those characteristics to select which news stories or ads to display.

Predicting life changes of members of a social networking system

: This patent application describes using your posts and messages, in addition to your credit card transactions and location, to predict when a major life event, such as a birth, death or graduation, is likely to occur.

Associating cameras with users of a social networking system

: Analyzes pictures to create a unique camera "signature" using faulty pixels or lens scratches. That signature could be used to figure out that you know someone who uploads pictures taken on your device, even if you weren't previously connected. Or it might be used to guess the "affinity" between you and a friend based on how frequently you use the same camera.

Correlating media consumption data with user profiles

: This patent explores using your phone microphone to identify the television shows you watched and whether ads were muted. It also proposes using the electrical interference pattern created by your television power cable to guess which show is playing.

Routine deviation notification

: This patent tracks your weekly routine and sending notifications to other users of deviations from the routine. In addition, it describes using your phone's location in the middle of the night to establish where you live.

Statistics for continuous location tracking

: Correlating the location of your phone to locations of your friends' phones it tries to deduce whom you socialize with most often. It also proposes monitoring when your phone is stationary to track how many hours you sleep.
There are a lot of algorithms that they have patented to protect one of their most valuable assets: their platforms.
The use of these algorithms and the decisions that they are taking show up a lot of
Facebook needs
Let's start with Facebook needs. Below a summary of needs.
I want to put my attention to "active users" and "behavior's analysis", to me these are the two key aspects I would like to review in deep. Some of the questions that comes to my mind are:
How does FB keeps the users engaged on their platforms?
How does FB keeps the attention of the people?
How does FB change the habits and routines of interaction to keep people engaged?
Chamath Palihapitiya answers is: "with short term dopamine-driven loops".
how dopamine-driven feedback loops work?
Well, this is the basic loop: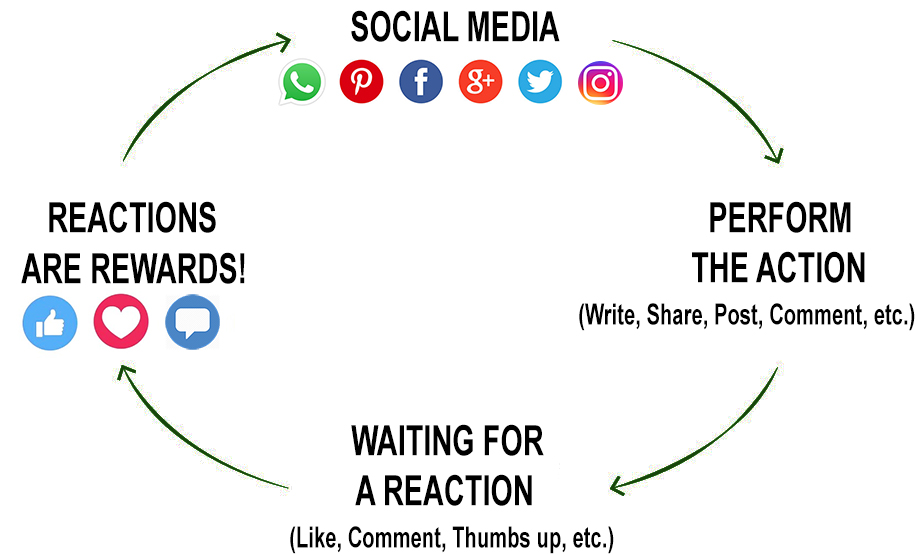 Some books with more information
All this is more complex that the short summary I have done here, so in case you want more details a book focused on this topic should be a good source of information. For instance:
Chaos Monkeys: Inside the Silicon Valley Money Machine'
Facebook: The Inside Story (English Edition)
Now I will comeback to the analysis of conflict of values between government and Facebook.